Hey Mabel Black Label.Com !
|
home




Carling & Racing

(Updated June 28, 2009)
(Info on Carling Circuit of Champions)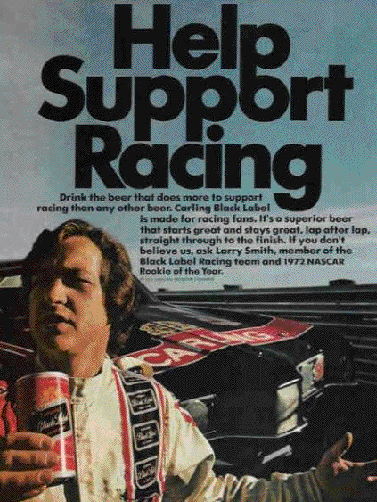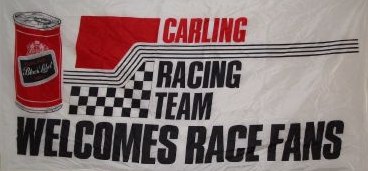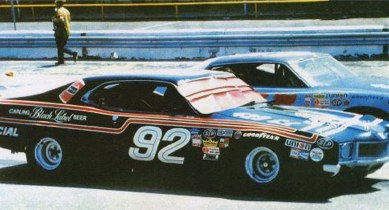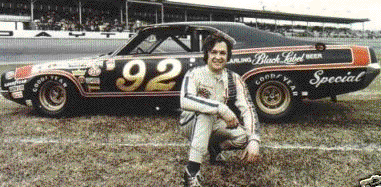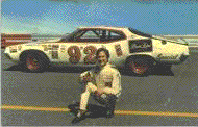 Larry Smith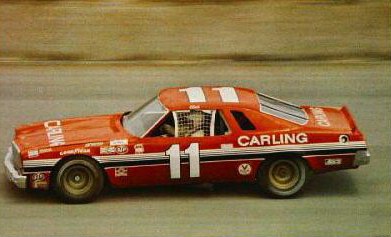 Cale Yarbourough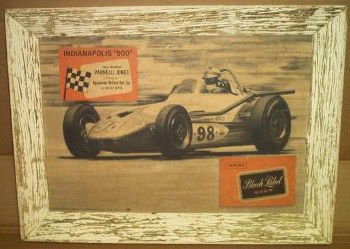 Carling was a long time sponsor of the Indy 500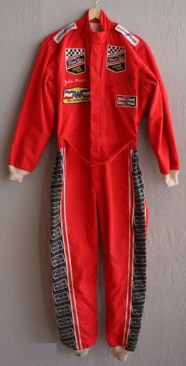 This item showed up on eBay a while back.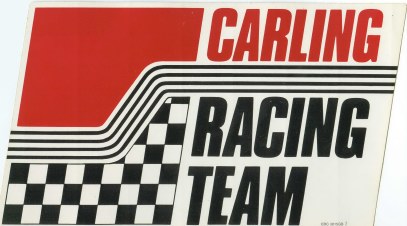 If your a fan of racing, and in particular NASCAR racing, you already know that the big three in the beer business all sponsor race cars in the NASCAR Winston Cup Series. Back in the seventies, Carling was into racing at least for a short while. Back then, the Winston Cup Series was simple known as the Nascar Grand National division. During the 1972 NASCAR season, Carling sponsored a car driven by rookie of the year contender Larry Smith. Larry drove a jet black #92 Mercury Cyclone and went on that year to win rookie-of-the-year honors.Carling went all out during this venture with awesome looking pit crew uniforms,VIP perks, and even a cheerleader for special events known as the "Carling Darling". The next season, with Carling Black Label still sponsoring the car, but with a red paint scheme with black lettering, Larry was killed at Talladega in 1973. Carling, looking to stay in the sport to help save their struggling southeast brewery in Atlanta, sponsored Earl Ross in the #52 Chevelle pictured below.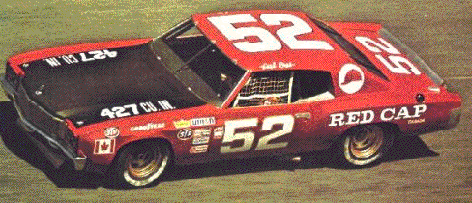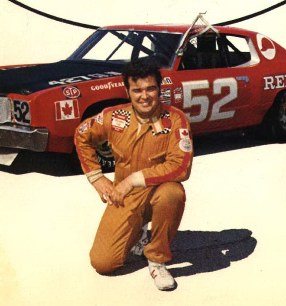 Earl Ross
Earl was struggling as a rookie of the year contender, so midway through the 1974 season, Carling struck a deal with Junior Johnson to run a two car team with Cale Yarbourough as the other driver.Cale would drive a Chevelle or Monte Carlo, depending on the track. Cale won 4 races the remainder of the year for Carling and went on to finish second in the points chase. Earl Ross won the rookie of the year title and finished a respectable eight in the overall points standings.Earl was (and still is) also the only foreign citizen to win a race i n NASCAR's premier division when he won at Martinsville that same year. Carling had sponsored Earl Ross and his short track car in Canada for years.

The following write-up is from Martinsville Speedway's website. It is a look back at Earl Ross' win at Martinsville in 1974. Enjoy the read.This story also has a good bit on my favorite all time local driver, Sonny Hutchins. If you have never been to Martinsville for a "Cup" race, you owe it to yourself. I go twice a year and enjoy the racing and atmosphere everytime.
For a race driver, the checkered flag has to be the most beautiful sight in the world.
And for a rookie driver from Canada who is battling the top stars on the Southern circuit, it has to be a highly emotional moment.
It was for Earl Ross of Ailsa Craig, Ontario, when he stunned a record crowd by winning the $70,925, 19th Annual Old Dominion 500 Winston Cup NASCAR Grand National race Sunday, September 29, 1974 at Martinsville Speedway.
"I felt like crying when I saw that checkered flag waving," Ross said. "And as a matter of fact, I did."
Ross, who naturally has been overshadowed by teammate Cale Yarborough of Timmonsville, S.C., on the Carling Brewing Company Racing Team, took the lead with 78 laps remaining to win the wild battle that saw only a third of the 30-car field around at the finish.
Ironically, Ross was in second place, two laps behind Yarborough, when Cale's engine let go on the 421st lap and he moved in front to stay for his first Grand National win.
Ross won $14,300 and covered the 500 laps and 262.5 miles on the .525-mile track in three hours, 58 minutes and 3 seconds. His average speed was only 66.232 miles per hour because of ten caution flags for 78 laps.
Buddy Baker of Charlotte, N.C., was second, one lap behind in the R.C. Cola Ford to earn $8,000 and Donnie Allison of Daytona Beach, Fla., was third, three laps back, in the DiGard Chevrolet for $4,000 in the richest race of its distance in NASCAR history.
Yarborough, who had started seventh, apparently had the race locked up. He led from the 184th lap until the point his engine failed. "I was just riding along. I knew I was going to win," said Yarborough. But he didn't.
"You can safely say that I was pulling for Earl to win the race," Yarborough added. "I think he always had a good chance. He looked like he had things under control. I think that if I could have won, we would have finished one-two and I was hoping for that."
Yarborough led a total of 288 laps on four occasions, good for the $5,000 bonus and a $5,900 payoff despite his 11th place finish.
Thirteen-time Martinsville winner and pole-sitter Richard Petty of Randleman, N.C. was never a factor. After qualifying with a speed of 84.119 miles per hour, he lost the lead to Late Model Sportsman star Sonny Hutchins of Richmond, Va., on the first lap and was out after 22 laps with ignition problems.
"The engine was skipping from the start," Petty said. "And that is why I kept falling behind so many of those other guys. When we came into the pits, the engine locked up while I was sitting there and I don't know why. We thought we could get it to turn over with a stronger battery, but that didn't work. It has never happened to us before."
Jimmy Hensley of Martinsville, Va., in the Lonesome Pine Raceway Chevrolet, was 19th after differential trouble and Hutchins finished 21st after wrecking.
Hutchins led the first 79 laps before Hensley took over for nine laps Yarborough moved in front on the 89th lap, Baker on the 92nd, Yarborough again on the 93rd lap, and Lennie Pond of Petersburg, Va., took the lead on the 138th lap. Benny Parsons of Ellerbe, N.C., in the Kings Row Fireplace Chevrolet was in front on the 148th lap while Yarborough again took the lead on the 181st lap. Baker led lap 183 until Yarborough moved in front on the 184th lap and appeared head for the win until his engine blew. All told, Yarborough led 288 laps, Ross 79, Hutchins 79, Parsons 33, Pond 10, Hensley nine and Baker 2 with 11 lead changes among the seven drivers.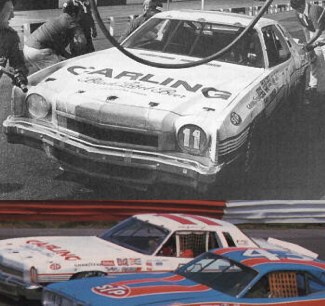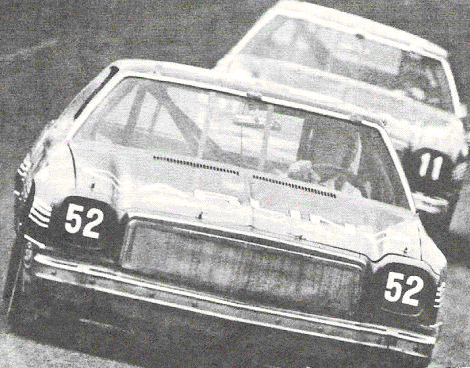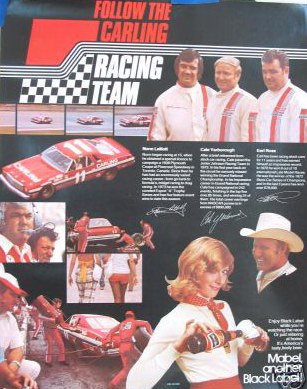 Unfortunately, this was all going on about the time when Carling was losing market share and money. The sponsorship ended after that incredible year. The Atlanta brewery closed not too much longer after that :(
It was a shame that Carling couldn't afford the Cale Yarbourough sponsorship as he went on to win the Championship in 1976, 1977, and 1978 !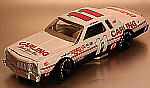 On the international scene, Carling sponsored David Hobbs in the Indianapolis 500 and in Brazil, Carling was big into sports car racing, but I am not sure who with.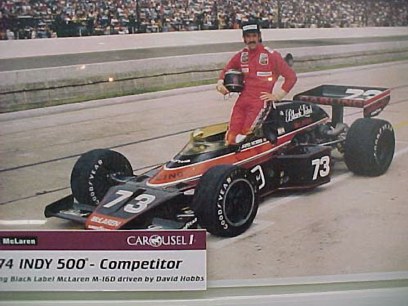 David Hobbs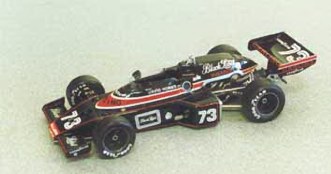 Plastic scale model of David Hobb's car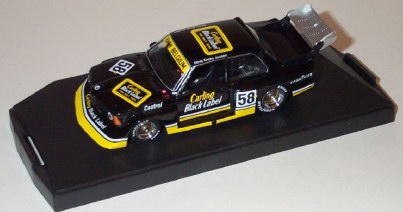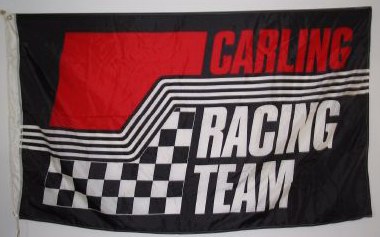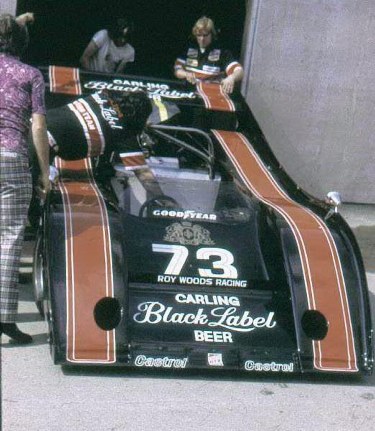 Roy Woods Racing / Carling Black Label,
McLaren Chevy M20. This photo was taken at Mosport Park in Canada on
June 10, 1973. That was the second to last year of the Can-Am series,
which started in 1966 and ended in 1974. To my way of thinking, the
Can-Am series was the greatest sports car racing series ever, featuring
the Group 7 cars with unlimited engine displacement. The series was
finally killed when engine and other restrictions were placed on the
cars. This was after Porsche entered their 1000 hp turbocharged 917's.
Unfortunately for Carling, they entered the series just when the
Porsche domination was at it's peak. This car was the ex-works car
driven the previous year by Peter Revson. Denny Hulme had driven the
other, identical Team McLaren car, and between the two of them they
managed two first place finishes, three seconds and one third in nine
races in 1972. But Porsche won the series with six firsts, three seconds
and five thirds. In the final standings Porsche had twice as many points
as the next team, which was Team McLaren. So the handwriting was on the
wall, and Team McLaren, which had dominated Can-Am racing for most of
it's history, realizing it did not have the money to compete with the
Porsche factory team, dropped out of the series. Roy Woods bought one of
the two works cars and campaigned it for Carling in 1973 with David
Hobbs as the driver. But with a normally aspirated Chevy V-8 it was not
competitive against the Porsche "Panzers". Although Hobbs qualified the
car in the top six places for several races, and finished fourth in a
couple of races, their best finish was a second at Watkins Glenn on July
22, 1973, and they finished the series out of the running. The following
year, 1974, Porsche joined McLaren on the sidelines as a result of
engine restrictions that were imposed by the SCCA, and the final races
of the series were dominated by Shadow-Chevrolet DN4's.
Special Thanks to Doug Smay in California for the above picture and information !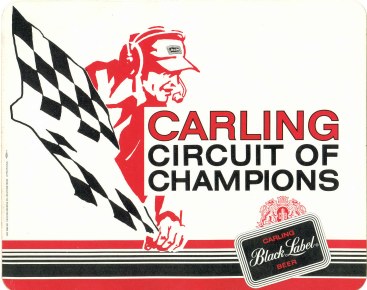 In 1974 Carlings sponsored this circuit which consisted of racing a different track in Michigan every week. I think it was either tues or wed nights. Can't remember how many tracks were involved but I think some were Sparton Speedway, Mt Clemons, Owosso, Mt. Pleasant, and possible Flat Rock. This circuit was won by Dick Crup of Hudson, MI. driving the Ramus Automotive Supply Chevelle. Vintage '64 or '65. The car was numbered 24. He won a 1974 Hurst Indy Pace car plus cash.Thanks to Dave Warren for this info!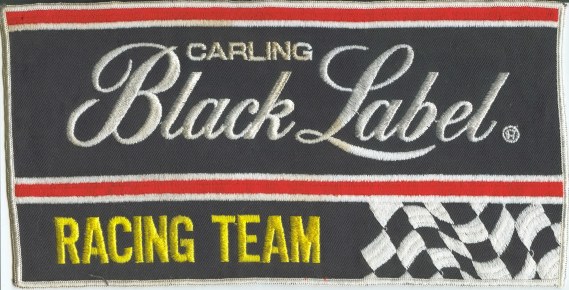 Embroidered emblem from the Larry Smith era.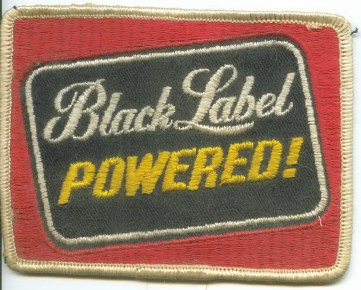 I used to have a sticker of this emblem on the bumper of my 1970 Dodge Challenger!